Blog
We have recently been writing about taking day trips while staying at Riverbend. This post takes a look at the Town of High River, just 22 kilometers south on Highway 2. This is another of the "Cool Little Towns" of Southern Alberta. Travelling the highway to town and driving around town, it is clear that agriculture is a main focus of the region.  To the east is mostly grain and to the west, especially through the foothills, mostly cattle.
Southern Alberta experienced devastating floods in 2013. Here at Riverbend, we saw extensive damage when the Sheep River overflowed the banks. The Highwood River which flows through the Town of High River had a history of flooding in low lying parts of High River. Nothing from the past compares to what the town faced four years ago. The town was under water and the entire population of 13,000 was ordered to evacuate. These events received extensive media coverage and the pictures and video can elicit an emotional response, yet these don't come close to what one experienced being on the ground, in the midst of the event
A staggering $200 million has been spent on flood mitigation and the town now claims to be "…the most well protected town in Canada, from flooding." The resilience of the residents shines through in what the town is becoming in their rebuilding. The historical portion of the downtown area has seen extensive rehabilitation and restoration. Some buildings in this area that, prior to the floods were starting to show their age, have a new lease on life. Vacant store fronts are filling up and as you walk through the area, it's hard to image what happened here such a short time ago. The Town had an opportunity to almost reinvent itself, and in some ways is better for it.
During your visit to High River make certain to visit the Museum of the Highwood. It's located in the old train station (406 First Street). One exhibit tells of High River's "big screen" credits. With the wide variety of scenery in the area, quite a bit of motion picture and television production has been done in the area starting with the 1926 film, "Chip of the Flying U" starring Hoot Gibson. Another historical site is the Sheppard Family Park which is billed as a "Southern Alberta Pioneer Life Showcase." The Park features the McCoy log cabin originally built in 1883, a heritage home from 1899, a one room school house and a barn built in 1913. There is a playground and picnic area and the site is home to a community garden project. This showcase has been lovingly cared for by community volunteers. Extensive damage occurred during the floods. As the community has been rebuilding, the volunteers were first focused on personal homes and area businesses. You will find some facilities still have work ongoing. At this writing, the McCoy cabin is very close to completion and will soon be open to the public.
Another favorite feature of High River is the historic murals. These are found on the sides of buildings throughout downtown. They depict the rich history of the area including harvest, cattle drive and aviation. One is titled "Sunday Afternoon at the Polo Match." You might be surprised to learn about the popularity of polo in this area going back about 130 years to the 1880's. In fact, the High River community of Polo Park is on the site of the former polo grounds. Murals also feature famous residents from the past, former Prime Minister Joe Clark, and author W.O. Mitchell. You can find a guide to a walking tour of the murals on the Town of High River website here.
Unique shops, galleries, restaurants and a community full of friendly and industrious prairie folk, you're sure to enjoy your day in High River and you can be sure High River appreciates the return of tourism to their community.
When you are camping at Riverbend, you will find lots to keep the family busy in Okotoks. With recent annexation, the west half of the campground is now within the Town of Okotoks.  Whether on the doorstep or actually in the town, we feel that we are part of life in this "Cool Little Town." The Town's motto is "Historic past, sustainable future" which nicely sums up its character. The citizens take pride in both the past, coupled with a commitment to sustainability, and a bright future. One example of innovation in sustainability is the Drake Landing Solar Community. The homes in this community all have solar panels on the roofs of garages behind the homes which are tied into a central solar heating system. You will notice these homes east of 32nd Street just south of Drake Landing Drive. You can learn more about the community and how the system works here.
Our area has a rich history and an enthusiast can spend time learning about the early days of life in the Foothills. A trading post was established in the area in 1874, with settlers arriving a short time later. The original name was Sheep Creek, this was later changed to Dewdney and finally to Okotoks. Check out the Okotoks Museum and Archives at 49 North Railway for more history. Just east of the museum in the old railway station you will find the Okotoks Art Gallery. Check here for current exhibits and events.
While walking around the downtown area, watch for informational signs found at historical buildings and locations. Businesses in the downtown area have established an association called Olde Town Okotoks. The members range from boutiques and retail shops to galleries, and from restaurants to health and beauty. Look for information on their ongoing "Shop & Win" promotion. Lots of activities take place in Olde Town. Recent events included BuskerFest and a Taste of Okotoks. Scheduled over the next few weeks are the Okotoks Show & Shine on August 14th, ChiliFest on August 27th and HarvestFest on September 24th.
Okotoks is a very walkable town. In addition to strolling through Olde Town there are 85 kilometres of pathways. Especially popular are pathways through the river valley and a pathways map is available on the Town website here. Other popular outdoor facilities and activities in the summer are the Water Spray Park which has recently been expanded and the Skateboard Park, both located at the Recreation Centre on Okotoks Drive. Your active youngsters might like to spend time at the BMX Track in the river valley. If you find yourself looking for things to do with the kids on a rainy day, the activities in town include bowling at Millenium Lanes, Okotoks Cinemas , Playtopia kids indoor play facility, and Paint it Up pottery studio to name a few.
For adults looking for activities, Crystal Ridge Golf Course is a popular 9-hole facility within the town limits. D'Arcy Ranch Golf Club on the west side is an 18-hole public course with views of the mountains to the west. An interesting tidbit about D'Arcy Ranch is that in 2013 it achieved designation as a Certified Audubon Cooperative Sanctuary. Just east of us is scenic River's Edge Golf Course which features a hole with signature island green. There are other options and you will find our list here with links to their websites.
In spring and summer and fall, baseball is a big sport for both participation and for fans of the local Okotoks Dawgs Baseball team. Their regular season goes from early June to the end of July. The team has had another good season, and visitors in early August might be able to catch a playoff game or two.
Choosing to include a stay at Riverbend Campground puts you on the doorstep of Okotoks with a buffet of things to see and do in one of Southern Alberta's Cool Little Towns.
While you are staying with us here at Riverbend there are many day trips that will immerse you in history, bring you closer to nature or perhaps offer a day of family fun. Situated as we are, with the vast prairies of the east rising to meet our Foothills and then on to the majestic Rocky Mountains to the west, we have much for you to choose from. Today's post looks at Head-Smashed-In Buffalo Jump. This historical site is a one hour and 20 minute drive south from the campground.
Your time visiting this outstanding attraction will give you amazing insight into the history of First Nations people here in the west. Head-Smashed-In is the world's largest, oldest and best preserved buffalo jump and has been designated a World Heritage Site by United Nations Educational, Scientific and Cultural Organization (UNESCO). This is a prestigious recognition of the historical and cultural significance of this site. UNESCO World Heritage Sites from around the world include India's Taj Mahal, Britain's Stonehenge and Egypt's pyramids.
Historically our Indigenous people were hunters and relied on the buffalo. For nearly 6,000 years, long before guns and horse were introduced to North America, the hunt saw buffalo stampeded over a cliff. This required much planning, favorable weather, timing and great skill. "Buffalo runners" disguised in animal hides were dispatched to locate and herd buffalo into position. This required a deep understanding of the animal's behavior. When the herd was in position they were then driven into V-shaped drive lanes which had been established and remnants of these are still visible today. The annual hunt provided food, tools fashioned from bones and hides for shelter and clothing. This primitive culture experienced years of plenty with good hunts and some years of shortage. Archeologists studying the site have determined the first sign of human activity in the area goes back 9,000 years. Its first use as a buffalo jump was 5,700 years ago which places its origin in time before the pyramids and before Stonehenge.
The history and story is well told at the interpretive centre. During your tour, learn how the geography, climate and vegetation influenced the lifestyle of the Plains people by examining the many exhibits. A small theatre presents a ten minute film "In Search of the Buffalo" which features local Blackfoot actors re-enacting activities around the hunt.
The interpretive centre is built into the side of the hill. You enter at the lowest level and start by advancing to the upper level and progress through the exhibits on various terraces which take you back to ground level. At the top an upper trail leads to a viewpoint overlooking the entire site and offers an excellent vantage point with prairie to the east and mountains to the west.
During the summer season food service is available in the Buffalo Jump Café featuring native-themed fare.  The gift shop features a wide range of souvenirs ranging from post cards to hand-crafted pieces created by First Nations artisans. Every Wednesday in summer, there are drumming and dancing demonstrations at 11:00am and 1:30pm. There are also more immersive experiences and interpretive walks which you can research by visiting the Head-Smashed-In Buffalo Jump website here. Your day trip to Head-Smashed-In will be a day full of history, culture, and nature.
If you have ever been here or looked for us on a map, you will know Riverbend Campground is located on the Sheep River.  For most of the year the Sheep is a quiet river winding through the foothills before emptying into the Highwood River about eight kilometers to the east of us and eventually into the Bow. During spring melt in the mountains, stream flow can be much heavier and some years the river breaches its banks and causes flooding. There have been some dramatic events in the past and we have seen the course of the river actually change.
As you can imagine, through the 30-plus years our families have been here we have seen and experienced all that Mother Nature is capable of, both the good and the not so good. Each year we are repairing and preparing in varying measures. Much work has been done in the last two years to protect our property and our community. The river bank has seen much of this work. We don't expect any problems but are ever vigilant. Much monitoring takes place upstream and when authorities believe there is a risk, we are notified. We in turn notify campers to the best of our ability. In the past, members of our campground community came together and helped one another. RV's located in areas that might be affected were moved to higher ground.
To facilitate notification in emergency events, the municipalities in our area have banded together and have a coordinated warning system in place called Safe Communities Alert Network (SCAN). If you are a month-to-month or seasonal camper we encourage you to sign up to receive alerts. You simply go to the MD of Foothills website here: http://www.mdfoothills.com/emergency-management/emergency-alerts.html  Here you will see information on the SCAN system with a link to create an account. When you go through the process you will be given options with respect to the types of notifications you are interested in receiving. Notifications can be sent to you via text message. The platform used was created by a developer called Everbridge, who has also developed an app for your smart phone. The app allows you to go into the site for updates.
Riverbend is also setting up a system which will allow us to send out notifications via bulk text message. We are in the process of inputting the cell phone numbers of our campers but you can opt-in to this by simply texting: "EZTHH10253" to 393939.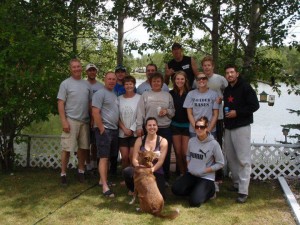 People have an interest in where they came from and family histories have been central to the human condition since, well, forever. In these modern times, interest in the study of ancestry and genealogy is growing. In our world with millions of strangers it's comforting to find family and have filial connections. As more and more historical records are made available online, searching for one's family history becomes easier. There are also tools to assist like family tree makers. The two major online players in this pursuit are Ancestry and MyHeritage. These sites grow because they have users that are actively adding content and and with a growing archive of family information more people join. The larger, Ancestry.com, is said by Wikipedia to have 16-billion historical records by June 2014. As a measure of popularity, first understand that there are over one billion active websites now online. As of this writing, Alexa ranks Ancestry.com as the 930th most popular. Ancestry and MyHeritage have very different business models. Ancestry offers users a free trial period and then charges monthly fees depending on services used. MyHeritage works with a freemium structure, with free access for a basic package and then charge users for more robust features.
The availability of these online sites, historical records and search tools make the research easier, and more people are learning about their family history. This growing interest is connecting people online as they build discover their family tree. This expanding circle of family results in a desire to meet. A family reunion (read more)…
We've known more than a few campers over the years that spend the entire week before the Victoria Day long weekend scrambling to get their unit ready. For many, it's the first camping trip of the season. The fact that they secured a site for the long weekend shows they planned that much, but they took for granted that the old RV could be made ready in a jiffy. You don't need to talk to an RV parts store and/or service centre to know it is their busiest, and perhaps most stressful week of the year.
One camper we knew seemed to miss that major freeze every fall, so hadn't winterized in time and had to deal with leaks in the water line every spring. And even knowing it needed doing, it was always the week before the long weekend, going back and forth getting parts, and advice. Wherever that trailer is today, the water lines are probably 10 years newer than the trailer.
Here's a quick list of to-do's to get ready for this season. Start now. Keep a list of things that need attention so you can plan any work and plan your trip to the part store. General items you will likely need are batteries for smoke/carbon monoxide detector, clocks, remotes and flashlights. You should also have spare fuses on hand.
Check the exterior – do a complete walk around your RV. Depending on where your unit is stored over winter, you may have sustained damage; scrapes or dents caused by a careless driver or vandalism. You may also have hail damage which occurred last summer but wasn't noticed at the time. Check your propane bottles. Have they expired?  Propane bottles are good for 10 years and it's never pleasant to discover they need to be replaced when you take them for refilling. If they are still good, check… (read more)
One of the common observations offered by newcomers and visitor to Southern Alberta is that the area suffers from a lack of lakes. Certainly compared to Minnesota, the "land of 10,000 lakes" or their neighboring Canadian province of Manitoba, we have fewer lakes. For most, the attraction of lakes is the recreational opportunities inherent in large bodies of water.
Because of the smaller number of lakes, bodies of water that wouldn't qualify to carry the designation elsewhere are lakes here. This might beg the question, what constitute a lake? Some opinion focuses on a threshold of 2 acre surface area, but in Montana a body of water has to be a minimum of 20 acres to be called a lake. But please grant us some license, for you see, it's really no different from use of the word "mountain" here versus elsewhere. With our majestic Rocky Mountains giving us our perspectives, we sometimes marvel at the hills in other regions that locals feel earn the moniker, "mountain."
In spite of having fewer lakes, we don't have a shortage of water. From rivers and streams to a variety of water bodies. Southern Alberta has a number of reservoirs created to collect water for irrigation. As agriculture was the primary purpose, recreational use was considered secondary.
In addition to lakes and reservoirs we have wetlands, a critical component of the ecology of our region. It might surprise you to learn that 20 percent of the surface of Alberta is covered by wetlands. The two types of wetlands in Southern Alberta's wetlands are "Shallow Open Water Ponds" and "Marshes." Here at Riverbend Campground we are blessed to have both types of wetlands features. Our "lake" is a Shallow Open Water Pond located on the west half of the property. Our Marsh is located east of the main road just below the hill.
The fountain on the lake adds a visually pleasing feature while promoting a healthy aquatic ecosystem. The fountain provides aeration of the water. The primary benefits of aeration are an improved fish habitat, a reduction in algae growth, and decreased mosquito activity.
Our wetlands offer ideal habitat for a wide variety of wildlife. Those with an interest in bird watching will have opportunity to see some very interesting species. *Click here* for a list of some of the birds that have been spotted here at Riverbend with notation on species that have nested here. Make use of our Nature Trails to explore these areas of our property. These run throughout the campground. Some run up the hill to the road from the East End and some follow the creeks.  We continue to add new trails and upgrade the existing legs. The wood mulch we are adding provides a good walking surface, is aesthetically pleasing, helps with weed control, and minimizes soil erosion. A new trail starts behind the main west washroom, follows the creek east and exits in the area of the new tenting sites. It covers rough terrain and caution is advised.
Small wooden churches were a mainstay of life on the Canadian prairies. As communities sprang up across the west, the church was a central part of life in the community. This history can be viewed in Heritage Park Historical Village in Calgary. Their church, St. Martin's Anglican Church, was originally built in 1896 in the So
uthern Alberta community of Lundbreck. The church was moved to Heritage Park in 1964.
There were many small churches, but only a few fit in the category of tiny. Cross Island Chapel in Oneida, New York bills itself as the world's smallest church with a floor of 51-inches by 81-inches and a seating capacity of two. Perhaps while travelling the Dinosaur Trail, near Drumheller, you have taken a few minutes to visit "The Little Church." The sign at this site boasts "Seating 10,000 people 6 at a time." In addition to being a tourist stop it also sees the occasional wedding and worship service. Here's a link to their Facebook page. The Little Church has even made it onto TripAdvisor's list of things to do in Drumheller.
Our little chapel has a less grand history but is a special little spot for us. (read more)
In the past twelve months we have had two RV fires.  The most recent was a Class A motorhome that was destroyed in a fire on January 8th.  The Okotoks Fire Department responded and says it took two hours to extinguish the fire.   The trailer on the next site had some exterior damage but was saved by the efforts of the firefighters.
We want to ensure the safety of all of our campers.  Before starting the season, do a though safety review.  Does your unit have working smoke and carbon monoxide detectors?  These should be checked and tested regularly.  Make sure you have a fully charged fire extinguisher in your RV.  Everyone should know where it is, how to operate it and what types of fires it can be used for. (read more)