Introduction to Horses Staycation
History of the Horse
Our introduction to horses begins with some history. The history of horses in the Canadian west is very interesting. There is evidence that wild horses roamed the plains and foothills of Alberta 10,000 years ago. These early inhabitants are classified as the Mexican Horse which is now extinct. The cause of their disappearance is unclear. You can learn more here.
After their disappearance, there were no horses in this area until about 500 years ago. Europeans brought them to North America in the mid-1700s by Europeans. As one might imagine their introduction had a significant impact on life.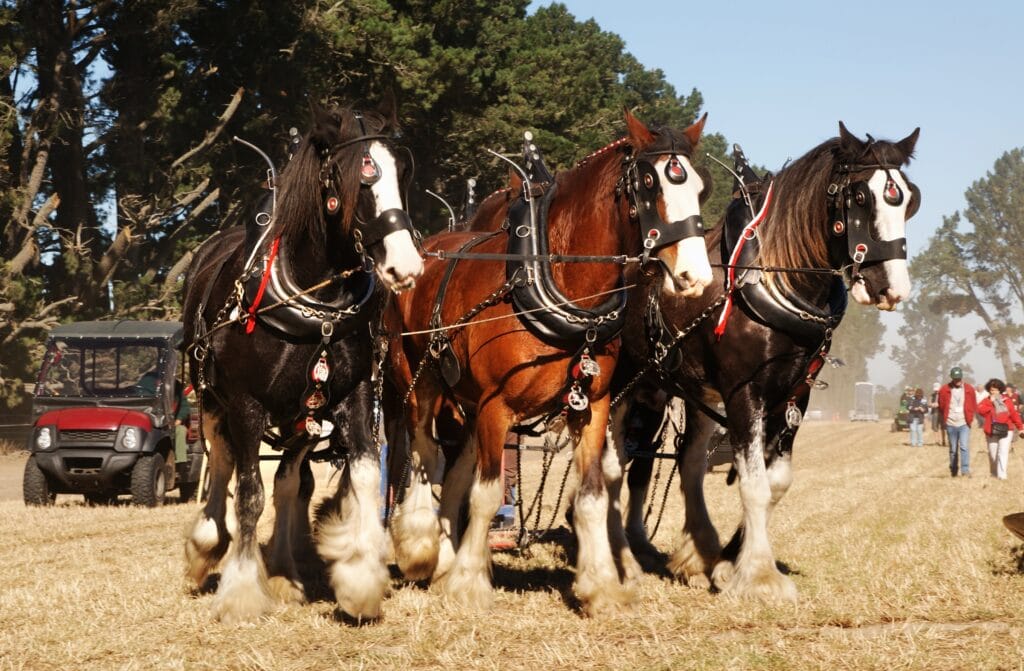 Working Horses
Horses were instrumental in building the west. Indigenous peoples used horses for hunting. For settlers, horses were an indispensable part of the operation of cattle ranches and grain farms. Working horses powered logging and mining operations. Teams of horses pulling a wagon transported goods and people.
Wild Horses
Some of these domestic animals were abandoned or release to survive on their own when machinery began to replace the horse. Their feral descendants are known as the Wild Horse of Alberta. and their numbers are estimated to be around 1,300 and they roam free in the area west of Sundre. There is an organization dedicated to protecting these horses. To learn more about these wild horses visit the provincial government's feral horse management page here. And to learn more about the group working to protect them see this page.
Horses for Therapy
There is growing interest in equine-assisted therapy and it's easy to understand as there is much to love. They are very intelligent, social and each has his or her own personality. On a basic level, interacting with a horse through activities like grooming, feeding and riding can have a positive effect. In a professional setting therapists treat many issues including anxiety, depression, and trauma. If this is an area of interest, we encourage you to do some research.
Riding Horses
English versus Western – The major difference between the riding English versus Western riding style is the tack. The term tack refers to what might be considered equipment placed on the horse for riding. This would be the saddle, bridle, halter, bit etc. When comparing the two styles, the most obvious difference in the saddle. The English saddle is smaller and lighter and gives the rider closer contact with the horse. The larger heavier Western saddle is designed for a rider that is spending long days tending to cattle.
Destination #1
Boots on the ground, introduction to horse. The best place to start is to introduce the family to horses and horsemanship. Before even getting on a horse, it is important to learn about these spirited animals and how to interact with them. The "Horse Awareness Program" at Homeplace Ranch is a great introduction. Ranch owner Mac Makenney has spent his life working with horses and has owned and operated Homeplace Ranch since 1974. Learn more about this program here. An alternative is the "Horsemanship" program at Silver Haven Equestrian.
Destination #2
Western riding lesson/trail ride. After an introduction to horses, it's time to experience riding. Your family will learn the basics including how to mount and dismount, communicating with your horse and much more. If you feel confident, you also have an opportunity to go on a trail ride. Book this family activity at Homeplace Ranch.
Destination #3
Working Horse Encounters – Stampede Park, Heritage Park, Bar U Ranch. As a "tenderfoot" two consecutive days in the saddle would be too much. We recommend that you have a day encountering horses in a different setting. Depending on what week you are planning for this staycation, there are three recommendations for your day three experience. During the Calgary Stampede, a visit to the agricultural barns is a great opportunity to seeing many breeds of horses and perhaps talk with their owners. If you are planning a staycation outside of the brief window for Stampede, this day could be planned around a visit to Heritage Park, or Bar U National Historic Site. These attractions showcase the role horse played in pioneer times in the west.
Destination #4
English riding lessons – Interacting with horses doesn't change, so this day will build on your earlier encounters with an English riding lesson. A series of lessons is the standard for English riding lessons but Silver Haven Equestrian will attempt to accommodate your family.
Destination #5
Horses in Sports
For this portion of your Introduction to Horses Staycation we suggest you plan a day as a spectator watching horses participate in a sport. We offer four very different sports for consideration.
Introduction to Polo
We are going to start with something that might not have been the first sport you think of. Of course, love of horse in this area goes back many years. Rodeo is often thought of as an event that goes back to pioneer days but there is a rich history of polo in Calgary. The Calgary Polo Club was formed in 1890. For more of the history of the Calgary Polo Club here's an excellent article. During the pandemic events were closed to spectators but they are opening up this season. Check out the Calgary Polo Club website for schedule information. And before you go we recommend you check this out to learn a bit about the terms and rules
Introduction to Show Jumping
Spruce Meadows mis a world class show jumping facility in our back yard. This year (2022) they have five show jumping tournaments that you and the family can attend. This is an opportunity to watch some of the elite of this sport compete. In addition to the competition, there is much to see and do while at Spruce Meadows. You must purchase tickets in advance. Visit the Spruce Meadows website here.
Small Town Rodeo
For a different experience of rodeo we suggest attending a small town rodeo. Most  of us in this area have seen rodeo at the Calgary Stampede, but small town rodeo is a very different experience. If you plan ahead you could attend an event nearby. Okotoks, High River and Stavely are a few options. Visit the Rodeo Canada website for a complete schedule.
Introduction to Horse Racing
In the area we have the Millarville Race Track.. The4y have a horse racing event on the Canada Day weekend. The other track in the area is Century Downs just north of Calgary. They boast a schedule of over 60 days of standard bred horse racing. You might even want to place a small bet on a horse sporting your favorite color.
Conclusion
This is one of our favorite staycation themes. There is a great deal of flexibility which means you can really make this week a great fit for you and your family. For tips on putting this one week together for your family check out our blog post Planning a Staycation. Your planning starts by booking your one week stay at Riverbend Campground by visiting our booking pages here.