The Viral Okotoks Tourism Campaign
Okotoks Attractions
There's an abundance of things to see and do in Okotoks. We have a page called "Things to do in Okotoks Area" which has links to the websites of various attractions which you might enjoy. We also encourage you to check out our blog for "A Day in Okotoks."
Tourism Campaign Goes Viral
In 2015 The Town of Okotoks launched a tourism marketing campaign that ended up gaining a measure of notoriety. The tag line for the campaign was "There are a number of things to do in Okotoks." The Town's marketing included ads on transit vehicle exteriors in the Calgary market. The fun began when a photo of the side of a C-Train car with the tag line was posted on social media. The line was displayed out of context and it struck people as so understated that it deserved some ridicule. It sparked a flurry of memes and the hashtag #thingstodoinokotoks went viral. Who hasn't seen at least one meme featuring Jonathan Goldsmith – the famous face of the Dos Equis "the most interesting man in the world" campaign. The people of Okotoks took all of this in stride.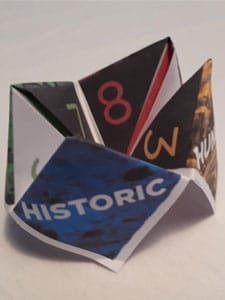 The Backstory
You might find the story behind the campaign of interest. The Town produces a Visitor's Guide each year. For the 2015 publication they took the idea of the little paper fortune teller folks used to make when they we kids and made it the central theme of the guide (see photo). The outside flaps contained the words "Happening," "Hip," "Historic," and "Hungry." Inside the panels were number one to eight and each reveled one of the things to do. Panel number one said "Spend a throwback day in the museum" and panel two said "Get some grub! We hear the ice cream is delicious" and so on. The main campaign slogan was "Let your summer unfold in Okotoks" and the word "number" in the tag line both tied back to the fortune teller.
Campaign Wins an Award
In February of 2016 the campaign won the Growing Rural Tourism Award. This annual award is presented in partnership with Travel Alberta, Alberta Culture & Tourism, Alberta Association of Agricultural Societies, and Tourism Camrose.
Make Your Own Fortune Teller
So this got us thinking. Why not create a fortune teller with your kids. If you don't remember how to, here's a link to a 10-step set of instructions. For content may we suggest "A number of things to do at Riverbend Campground."
Play a round of Mini golf
Rent a Paddle boats
Rent a Peddle cart
Walk a nature trail
Have a campfire
Make s'mores
Buy a treat at the Riverbend store
Bird watching
Plan to "Do Some Things"
When you book you camping get away/vacation here at Riverbend Campground be sure plan some of the things that you can see and do. We are located right on the eastern edge of town so the many things to see and do are easily accessed.