Hope Ana Prayer Chapel
Small wooden churches were a mainstay of life on the Canadian prairies. As communities sprang up across the west, the church was a central part of life in the community. This history can be viewed in Heritage Park Historical Village in Calgary. Their church, St. Martin's Anglican Church, was originally built in 1896 in the Southern Alberta community of Lundbreck.
There were many small churches, but only a few fit in the category of tiny. Cross Island Chapel in Oneida, New York bills itself as the world's smallest church with a floor of 51-inches by 81-inches and a seating capacity of two. Perhaps while travelling the Dinosaur Trail, near Drumheller, you have taken a few minutes to visit "The Little Church." The sign at this site boasts "Seating 10,000 people 6 at a time." In addition to being a tourist stop it also sees the occasional wedding and worship service. Here's a link to their Facebook page. The Little Church has even made it onto TripAdvisor's list of things to do in Drumheller.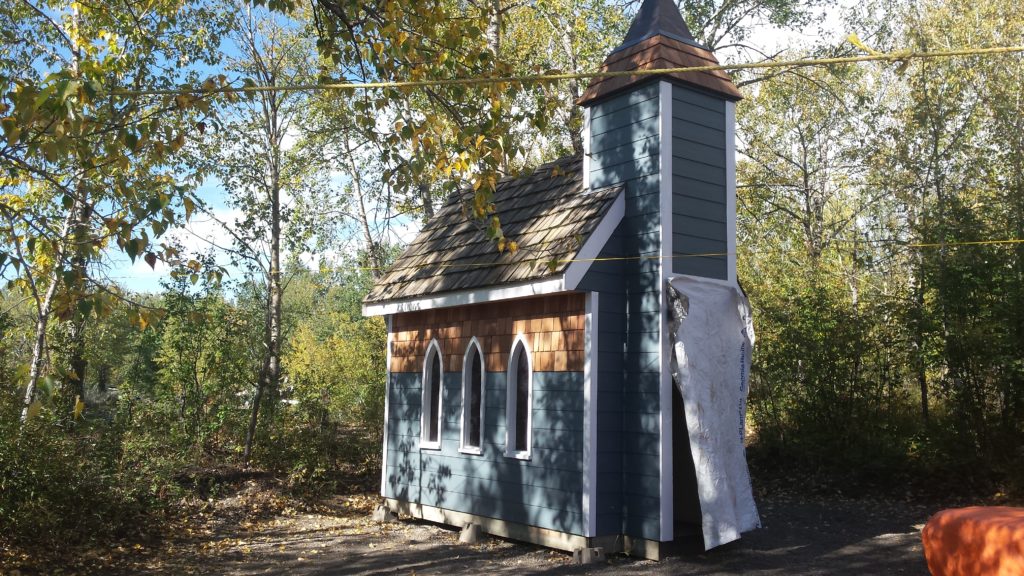 Our little chapel has a less grand history but is a special little spot for us. You will find it nestled in a secluded little area on what we call The Island. It was originally constructed over the 2000 and 2001 seasons. It was fondly christened the "Hope Ana Prayer Chapel" If you have never seen it, you will get a sense of scale knowing it too has a seating capacity of six people.
During construction, some of our seasonal campers donated items like benches, lanterns and candles to the project. At various spots around the lake you could see the structure standing above the bushes, surrounded by the larger trees. Over time the undergrowth filled in and embraced our little hideaway. Along with flora, time and weather took their toll and this little gem fell into disrepair.
Last summer, our team rolled up sleeves, and with sawdust flying and hammers swinging the Hope Ana Prayer Chapel has been restored. We like to think the new edition is even better than the original. New roof, new siding, new windows, we think it turned out pretty well. It was finished in time to be used for a family wedding last summer. Have a look at some of our pictures, and when you visit us this summer, make sure to take a stroll onto the island, take a look, a picture or two and spend a few quiet minutes.